With my Indian visa quickly expiring, I decided to take heed and depart Benares. Off to Nepal I head for a refresh of both my visa and head in the crisp mountains.
I entered the train station to await my train to Gorakhpur from whence buses will complete the journey to Pokhara and then Kathmandu. As I entered the crowded station I noticed a monk in auroral attire monitoring the entrance to the platform. He quickly engaged me in converstation about my destination and our plans were the same: journey to Kushinagar on the Indian side to visit the place of Buddha's death and to Lumbini on the Nepali side where Buddha was born.
"Yes, okay, well then- just follow me, ok? I've been here several times!"
And just like that I met Master Roy, a monk born in Singapore living in Taiwan for many years and my companion for the next several days. He now lives at Taipei's famed White Cloud Temple. With him was another Taiwanese pilgrim, a woman of about his age, whom he was escorting around the famous Buddhist pilgrimage points of India and Nepal.

Master Roy
Master Roy is certainly eccentric and friendly- and doesn't he resemble Bob Hoskins, the actor from Who Framed Roger Rabbit? At the station, I thought of my freshly shaved head under my hat as I watched Master Roy apply generous amounts of some kind of oil upon his own shorn dome. It was bound to happen. With a smile I unveiled my cranium and accepted a coating of his Sri Lanken lube that left me shining like a cue ball and Master Roy chuckling with pleasure.
At both stops, Buddhist countries and organizations have spent large amounts of money to build temples of their own style. In these temples it is possible to stay and eat, donation appreciated. Master Roy has been to these sites several times and thus knows where to stay, who the head monks are, and what to see. I couldn't ask for a better method of visitation.
Kushinagar
Our first stop was Kushinagar. Guatama Buddha would achieve parinirvana here at the age of 80 in 483 BCE. Parinirvana occurs upon the bodily death of one who has attained complete awakening, escaping samsara or the cycle of reincarnation.
According to tradition Buddha would take his final meal, either that of pork or mushroom, from a blacksmith and fall violently ill. Sensing the end was near, Buddha would instruct his attendant to convince the blacksmith, Cunda, that the meal had nothing to do with his death and was in fact a source of great merit to provide the Buddha with his last nourishment. Buddha told his disciples at his death to follow no leader, but to follow his teachings (dharma). Today, the Parinirvana Temple marks the spot of his death with a statue inside.
"All composite things pass away. Strive for your own liberation with diligence."

-Final words of Guatama Buddha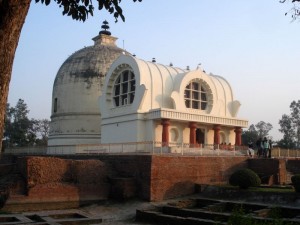 Parinirvana Temple, Picture courtesy Wikipedia

Picture courtesy Wikipedia

Sleeping Buddha Detail

Buddha Feet

Makutabandhana, the cremation-site. Picture courtesy Wikipedia.
Over the centuries, warring invasions left the site destroyed and jungle retook the surrounding countryside. In the 1800's, English attached to the East India Company rediscovered the site and eventually made the connection from the ancient texts that this was in fact the site of Buddha's death.
Of interest, The Maitreya Project aims to build a 152 meter tall statue of Buddha that will surely bring many more pilgrims to this holy site of Buddhism. The Statue of Liberty is 46 meters tall.
Lumbini
So we left Kushinagar, where we stayed at the Burmese Temple, and continued across the border of Nepal to Lumbini. This is the place of Buddha's birth and is much more vibrant in feeling and community. We first stayed where all traveler's rest their heads, the gigantic Korean Temple. This temple can accommodate large numbers of people in several housing building and boasts a concrete reconstruction of a traditional Korean temple. Though this was fine, we eventually used Master Roy's connections to get us into the still under-construction Vietnamese Temple.
And what a temple it is. Vast amounts of money are creating a sort of Buddhist-Disney compound with slightly trippy statues, a crane pond, and huge main temple with dragons, lotus, and mountain sculpture.

View from top of Vietnamese Temple, looking onto the grounds.

Local resident of the Vietnam Temple
Surrounding the holy sites of Lumbini are large monastic zones separated into Theravadin monasteries on one side with Mahayana and Vajrayana monasteries in another.
But we came to see the birthplace of Buddha, where Queen Mayadevi delivered young Siddhartha ("he who achieves his aim") in a pond. She was on her way to her father's kingdom to give birth, as custom of the time. During the celebrations over his birth, a hermit seer predicted that the child would become either a a great king or a great holy man.

Birthplace of Buddha.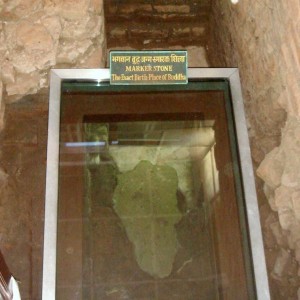 Buddha's Exact Place of Birth, picture courtesy of Wikipedia
The modern site boasts a Bodhi tree, an Ashokan pillar to mark the visit of the great king, a bathing pond, and a temple housing a marker for the exact site of Buddha's birth.

Under the Bodhi Tree

Countryside
I ended up staying longer at these sites with the company of Master Roy and his travelling companion. He is a first class individual and a prime example of one of the first tenets of Buddhism: charity. So it was with some hesitance I took my leave and continued into Nepal. Hopefully I can meet Master Roy again when I visit friends in Taiwan.