The smog and hazy skyline heralded the arrival of Shanghai. I quickly caught hang of weaving in and out of the masses and master the public transportation. I was supposed to meet with someone I know in Japan from Shanghai.. but after unsuccessfully contacting him I found out he is working everyday until late and is very unresponsive.
No time for bullshit, so I decided to take in the Bund, Shanghai's famous river and scenic skyscraper view. Tried to catch the Shanghai Museum but found a ridiculous line as security has slowed a lot of things. Baggage scans front every entrance to metro, train, and tourists spots.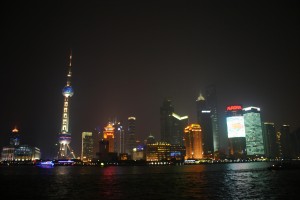 Other than that, not impressed much so far. The staring here is even worse than Japan, which I didn't think possible. The difference is in Japan, if you catch someone staring they look away, but in China they hold you in a tractor beam like gaze well past the comfort mark. I've taken to saying random words in English to them, like 'banana,' 'hopscotch' and other funny sounding things. Sometimes they mimic it but usually they break their gaze.
Near two days is enough as I have large distances to go, so since meeting my friend is more trouble than its worth, time to move.