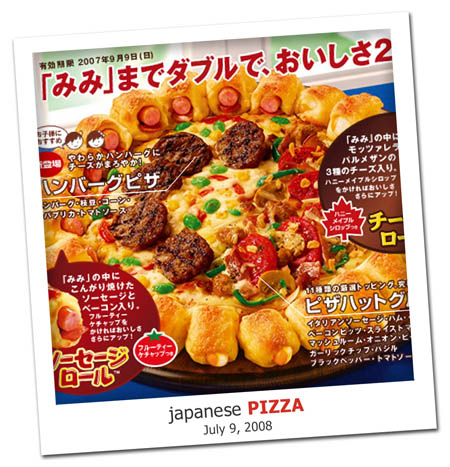 Pizza in Japan is treated much like most other foreign concepts: it's kind of the same but brow-beaten to fit Japanese cultural kookiness. It certainly looks like pizza, but closer examination shows the Japanese are the Jackson Pollacks of pizza making.
Don't get me wrong, you can find normal Western toppings. Its also one of the only ways to get cheese that you don't have to take out a loan to pay for. On Kyushu, we have a chain called California Pizza and my favorite is the Spicy Pepper Pizza, which like like a pepperoni and sausage with a tangier sauce. Many Italian establishments serve standard Italian versions like margherita.
The seafood lovers type is not uncommon in the West (but I'm not so sure about the chunks of salmon and squid rings). Then things get a little strange. Enter the most loved topping in Japan: mayonnaise!! Seriously, it can be put on anything and only in copious quantities- including pizza. My local convenience store often sells single slices with a whole hot dog/sausage on top, covered in mayo, of course. Mayo is one of my least liked foods.
Take a look at this pretty standard looking menu:
Pizza Hut Japan's exclusive Double Roll pie perhaps takes the prize. This monster is 646 calories per slice and boasts little bacon wrapped sausages baked into the crust and mini hamburger patties on top among a plethora of other toppings. It comes with maple syrup for extra flavor and will only set you back $35US. Given a chance, I would try this. But no mayo.

Double Roll

Cousin to the Above
Here is a list of some toppings that have been known to show up.
Squid
Squid Ink Sauce
Salmon
Corn
Dried Flakes Of Fish
Eel
Kimchi
Raisins
Corn (blasphemy if you ask me)
Mayonnaise
Spaghetti
Cabbage Curry
Seaweed
Egg Yolk
Whole Chicken Breasts
Tater Tots
Tuna
Eggplant
1/6 Chunks of Tomato
Curry Powder

Ummm, Squid Ink Pizza
What is often called a "Japanese pizza" is the delicious okonomiyaki. Its pan-fried batter cake with various ingredients. I've got some great video of the process of making one, which is usually done right in front of you. Perhaps I'll cover that soon….
For all the strangeness and corn and mayo out there, there are some unique and tasty pies available in Japan. You can (usually) get a standard one and for the adventurous there are plenty of options. Just hold the mayo.