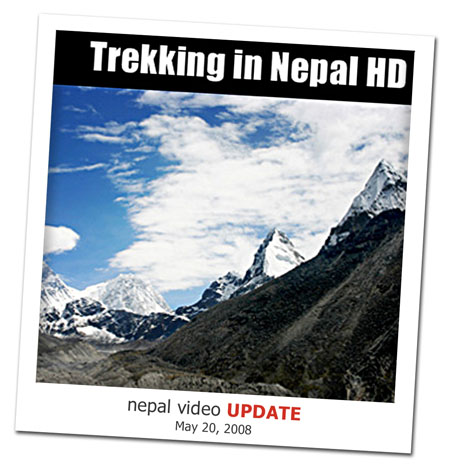 I'm pleased to say I have finally finished my 11 part series (1 intro and 10 episodes)! I've been furiously putting the final touches on the series which is why I haven't been posting with great frequency lately.
I culled about 90 minutes out of the over 6 hours of high definition footage I took while trekking with Steve in Nepal. An educated guesstimate would put the totally number of editing hours at around 200 or so. A lot in any event.
I wanted to do a lot more After Effects work, but most of my time was caught up in Final Cut. I'm not sure my humble MacBook Pro could handle much more AE than I threw at it actually.
My originial idea was to host these and other videos at the cool website I created at VLOGABOND.tv. It pains me to say I am going to abandon that idea. Its just too much work for one person (me) at this time. I hope I'll find a use for the sweet logo I designed for it, or perhaps sell it to another enterprising vlogabond.
The current plan is distribute it on most online video sites, primarily Vimeo because they can host my HD versions, and of course youTube, Google Video, and all the rest. In addition, I am going to solicit my favorite travel blogs to see if someone will feature them, perhaps Gadling? The main distribution, though, will come via iTunes where you can download HD and iPod ready versions. (The above pic will be the series logo on iTunes.)
You can grab the first into episode over at Vimeo (HD) or YouTube:
YouTube doesn't quite do the real HD version justice (color is bland and loses widescreen), but you get the idea.
Enjoy the series and let's see where this project takes me.