You can find all the photos featured here and more in my Yakushima Flickr Set.
Yakushima, only 27 km in diameter, is an amazing hiking destination. My trip was filled with thousand year old giant cedar trees, waterfalls, and outside onsen. I had a few frustrating times but in the end accomplished all I wanted.
Matt and I arrived by ferry in the morning (~¥9000 return on the fast hydrofoil) and immediately set out hitchhiking from the port town of Miyanoura down to the Hirauchi Kaichu Onsen oceanside. We had our first ride in about 20 minutes from Yuko-san who drove us way out of her way to the foot of the onsen. She worked in one of the hotels on the island and spoke perfect English, telling us tales of the K1 fighters and pop singers who stay at her hotel.
The outside onsen was dramatically set in volcanic oceanside rock. The tide was in and the water could have been warmer but we jumped right in. I think some of the old ladies who wandered up to visit were taking more than just onsen pictures as it is mixed nude.

Volcanic Rock

Hirauchi Kaichu Onsen
We wandered looking for a campsite and found the very excellent Young Inn Minshuku, which is a Japanese style bed and breakfast. For ¥800 yen a person, we pitched our tent in their yard on a cliff overlooking the ocean. The inside had rooms to rent and we could use their new looking facilities, plus they gave us their gas stove to cook with and bikes to tool around on. It was such a nice place to start and in complete opposition to the last place we camped. They had a pool table inside as well and drove us to the start of the trail the next day at Onoaida Onsen just a few kilometers from their house. Highly recommended place to stay.

Young Inn Minshuku
And so began the hike. From Onoaida Onsen we walked 13 kilometers, mostly uphill, in a deceptively hard hike if Lonely Planet's Hiking in Japan is to be believed. Which it's not. There were no giant trees, like the other side of the hike, or any deer or monkeys. The only redeeming part of it was the 30 meter Jianokuchi-daki waterfall 1.5 hours into it.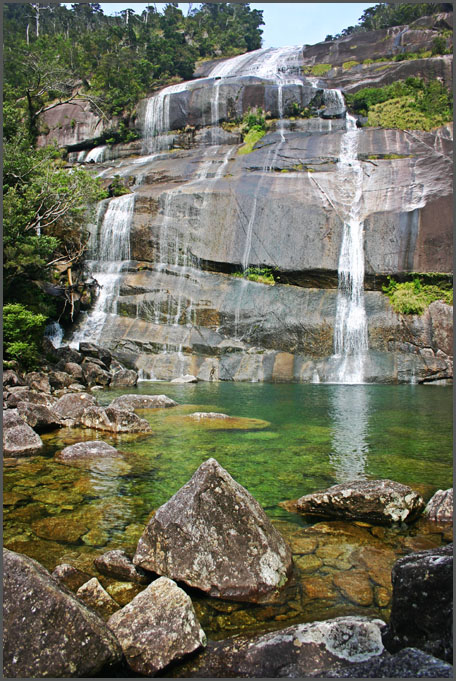 Jianokuchi-daki Waterfall
My advice would be to skip this day entirely and only do the last two as outlined by LP. It was a bit frustrating to sludge over 11 hours (book says it takes 8 hours) to get to a point where a road drops all the other hikers off before a short walk to the sleeping hut. We saw no others the first day and arrived to the hut with everyone asleep. In fact, our hosts at Young Inn wondered why only foreigners do this portion and warned us of an over 11 hour hike.
The following day was another uphill battle, so I decided to give my legs, which were still quite tired at 6 a.m., a rest and hitchhike down to an onsen. Matt went on up and I dropped in from the topside of the island to continue after hiking around Yakusugi Land and spending a night on the beach. With names like Buddha-sugi, the immense tree trunks twisted up from the ground.

Buddha-sugi
The next two days of hiking were spectacular. I met Mike (replacing one Scottsman with another) and I hiked with him some of the time. The first day I weaved in and out of the yakusugi (giant cedar areas) and the famed greenery of the "Mononoke Forest". The view from Tsuji Toge Pass was excellent.

Tsuji Toge Pass, view this one large

Mononoke Forest
Parts of the forest are referred to as the "Mononoke Forest" because it served as the inspiration for Hayao Miyazaki's animated classic, Princess Mononoke. See the clip below, especially towards the end. These areas are moss covered and can adequately be described as just green. The tiny deer of the island, yaku-shika, can be spotted in many places.
The trail converges to the railroad track that in older times was used to facilitate the removal of the trees. The giants were felled for various reasons over the years including to make stylish shingles for rich people and build temples in Kyoto.

Photo by laungeville
After several hours of walking, eventually the big guy himself, Jomon Sugi, appeared. This monster of a tree is estimated to be as old as 7,200 years. It's trunk is 28.8 meters in circumference. When I arrived, the crowds had all departed back towards their buses, and I stood alone gazing up into the branches of this ancient tree. We exchanged a few words and I continued on my way.

Jomon-sugi

Jomon-sugi Detail
The next night was spent in a another nice hut and was a short 2 hours from Mt. Miyanoura peak at 1935 meters. It claims the title of the Kyushu area's highest mountain. I started at 5:30 in the morning and had some amazing views in the early light.

My luxury hut
Granite rocks speckle the mountain tops, which remain fairly flat once you reach a high elevation. Tough bamboo grass called sasa covers the ground and the wind blows with some ferocity. The few hours over Mt. Miyanoura and surrounding peaks is some of the best hiking I've done in Japan.
I quickly descended, passed the hut from the first night, and hitchhiked via two rides back to the campsite where I left the tent.
The site was Oceanview Camping Ground, which despite the appealing name turned out to be a gravel parking lot near a rocky ocean front. There was water spouts and portable toilets, so I set the tent in a relatively rock free spot where it stayed for two nights.
One the third night, Matt and I rejoining, the first rain clouds began to roll in. We had amazing luck thus far since it is not uncommon for it to rain everyday on Yakushima. After 6 pm, as the clouds rolled in, our hero Shimbara Shimpei rolls up in his white station wagon. He gets out and immediately goes into puffer-fish mode as little people in big roles tend to do.
His story changed a couple times when it became apparent Matt spoke fluent Japanese. At first the site wasn't ready. I'm not sure what other preparations a gravel parking lot needs, especially since we are camping during the busiest time of the year (Golden Week time). Not good planning on their part. Then we didn't have a reservation, which we did not know we needed and no phone number or other contact description posted. Then we hadn't paid the scant ¥500 yen a night, which we offered to pay, of course. That offer was rejected because I think he just wanted to make us pack everything up and find a new place to stay as the rain was beginning to start because he could (or the police he warned were on speed dial). Shinbara ever of helpfully told us there was another site somewhere that way, though he could not give us a ride. "Impossible." We were dumbstruck. Any further questions diminished into him yelling "Leave! Leave!" over and over in Japanese. Further more, we watched as he walked over to the other tent set up, and for lack of a better description, shake the shit out of it as the first thing he did.
This episode, despite really being a non-issue, shook me up quite a bit. This is Japan after all and I've rarely, if ever, come across such rude behavior especially in light of the circumstances (rain approaching, busiest tourist season). This island depends on the tourist industry and we took precautions not to make a mess.

Our camp after moving actually had grass.
In any event, we walked to another campsite, cooked a meal, and went to bed. It rained well into the morning and we hustled off to the ferry port and caught an early boat back to Kagoshima. We scored some of the best Indian curry I've had in Japan before making an early bus back to Oita, allowing for a night in my own bed before work the next day.
And that was only half of my Golden Week adventures….