A full index of my 11-part Trekking in Nepal video series, journals, and pictures can be found here. Images featured in this post and more can be found at my Nepal Flickr Set.
Steve and I set out before 9 and met Ram, a local we met who told us he would take us to his village in the hills surrounding Kathmandu. After a 45 min taxi, we managed to get above the pollution and into fresher air.We spent the day at his house and saw his crops, kids, corn, and cow (in that order). It was a good chance to see things off the beaten path that not many are privy to and we had some delicious milk tea.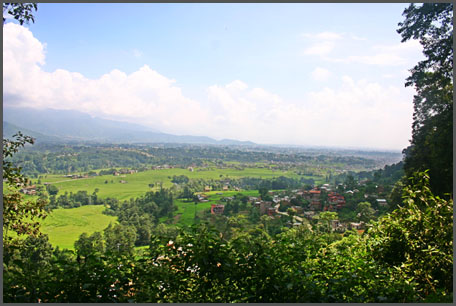 Today was also a Hindu festival where the women were all off work and dressed in bright red sari wraps. Even Ram's two daughters had their pink finery on.
Back at the city we parted ways and did your outfitting for the trek in the tourist district of Thamel. I bought North Face goretex rain gear (not authentic, though), a trekking pole, sunglasses, and some trail foods and medicine. The markets are some of the best I've ever seen with amazing handmade goods and cheap outdoor equipment.
Organizing tonight and off for the start of the trek tomorrow!